We can trust God's promises because He's faithful to keep them. Two symbols of promises touched my heart last weekend.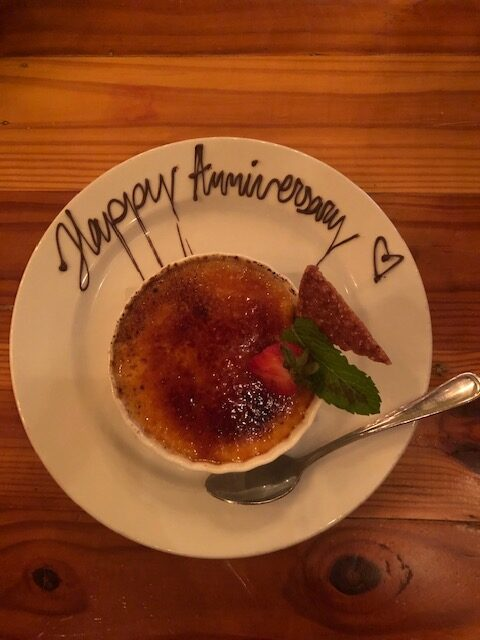 Here's my story.
Late Friday afternoon, Ray and I drove twenty-five miles to our favorite restaurant, a quaint, upscale café. As we held hands to pray over our anniversary dinner, I noticed our wedding rings—symbols of the promises we'd made years ago.
After a delicious meal and dessert, we recalled and laughed about our early marriage misunderstandings. The first occurred several months after our wedding.
Ray had promised this ready-for-Christmas-in-September girl we'd get a Christmas tree when he returned home from work. Filled with seasonal cheer, I watched for his car. When he arrived, I climbed into the passenger seat. He looked puzzled. "Why did you get into the car?"
"You promised we'd buy a Christmas tree today. Aren't we going into town to find one?"
He chuckled, opened the car door, and called me to follow him. We walked through a pasture on his family's property where we lived and stopped at a fence. He pointed to a row of cedar trees. "I didn't say buy a tree. I said get a tree—one of those."
"Get a tree" to this city girl meant traveling to a store or Christmas tree stand. To my raised-in-the-country husband, the translation was "cut a tree we already have." We finished our coffee and laughed at the memory of a promise made and kept before our first Christmas season.
We paid our bill and left the restaurant. A gentle rain quickened our steps to the car. Soon, my husband navigated a sharp curve in the road, and we spied the evening's second symbol of promise.
Clouds obscured part of the rainbow's arch, but the visible portion looked as if God painted one broad brushstroke of the spectrum's colors onto a rain-soaked sky canvas. A striking sight.
After the flood, God described the rainbow to Noah as a symbol of His promise.
When I bring clouds over the earth and the bow is seen in the clouds,I will remember my covenant that is between me and you and every living creature of all flesh. And the waters shall never again become a flood to destroy all flesh.

Genesis 9:14-15 ESV
The rainbow represents one of God's promises, but His Word contains many. As we admired the beautiful streak of color for several miles, we thanked God for His faithfulness. No translation is needed for His promises.
When I fret about how I'll accomplish my to-do list or which choice to make when decisions arise, God's promises calm my heart and turn my eyes toward Him. He shows me whether I'm trusting Him or myself. Concerns about the future that trouble my heart, shrink in the light of His Word.
Here are truths about life with God I've studied lately.
We don't walk alone. He promises His presence, strength, and help.
"Fear not, for I am with you; be not dismayed, for I am your God; I will strengthen you, I will help you, I will uphold you with my righteous right hand."
Isaiah 41:10 ESV
He assures us of wisdom for trials.
"If any of you lacks wisdom, let him ask God, who gives generously to all without reproach, and it will be given him."
James 1:5 ESV
Jesus offers supernatural peace in a troubled world.
"Peace I leave with you; my peace I give to you. Not as the world gives do I give to you. Let not your hearts be troubled, neither let them be afraid."
John 14:27 ESV
Our wise Father knows our needs and provides for them.
"For the Lord God is a sun and shield; the Lord bestows favor and honor. No good thing does he withhold
from those who walk uprightly."
Psalm 84:11 ESV
Do you need a promise from God today?
On a card, write one of these promises or another you find in the Bible. Keep the card handy to read and pray when troubling thoughts arise. God's Word is a symbol of His faithfulness you can cling to as you trust Him.
Ray and I noticed two symbols of promise last weekend—our wedding rings and the rainbow. Symbols are important, but they are only reminders of God's faithfulness. We don't place our faith in signs or in life events. Our heavenly Father asks us to trust Him.
We can trust God's promises because He's faithful to keep them.
We can trust God's promises because He's faithful to keep them. Click To Tweet
How has a promise of God sustained you? What's your favorite? Perhaps one of us needs the one you'll include in your comments today. Let's brighten each other's day with God's words.
A heart-felt thanks to each of you, reader friends, for reading and leaving a comment.
Please feel free to share this post!