As distant lightning sliced the sky one pre-dawn morning, my friend Jan heard sparrows singing. When sheets of rain blew across the yard, she could still detect the birds' melody until the rumble of thunder crept closer and muffled their notes.
Inspired by her observations and knowledge that song sparrows sometimes sing in a rainstorm, Jan designed and created the beautiful coaster pictured below and painted an entire set. She explained, "I painted these sparrows as early morning silhouettes because of the birds I heard that rainy day. They reminded me of how the four of us encourage each other through the storms of life." The birds perched on the branch represent the four ladies in our prayer group who each received a coaster.
Jan's right. We do encourage each other by praying through sunny and cloudy days. My coaster sits on my desk and reminds me of the prayer sister flock who prays for me regularly.
The group rarely meets in person, but at least weekly via email we share our joys and prayer needs, Bible verses, and encouragement. Requests include pending decisions, job interviews for children, health needs, and other concerns.
Rejoice always, pray without ceasing, give thanks in all circumstances; for this is the will of God in Christ Jesus for you.
1 Thessalonians 5:16-18, ESV 1
Some burdens of our heart are personal, but others can be shared with trusted Christian friends. When I share with this group, I have assurance they are lifting my needs to the Lord. Of course, admitting sinful attitudes and needs can be humbling, but that is beneficial, too.
Therefore, confess your sins to one another and pray for one another.
James 5:16
In addition to seeking prayer support from faithful friends, we can learn about preparing for the storms of life by observing our feathered friends. Some birds sing before a storm and then seek shelter under protective branches. Birds that perch on tree branches, sparrows included, "tend to perch on a thick branch very close to the trunk on the side most protected from wind and rain. When these songbirds are relaxed their feet grasp automatically, so they can sleep while tightly clasping the branch." 2

When God created these beautiful birds, He designed their feet for gripping branches and equipped them with instinct to seek shelter during storms. We are created to bow our heads and seek God as our Refuge in the storms of life by drawing close to the One who holds us in His hands. Isn't that a comforting thought?
He who dwells in the shelter of the Most High will abide in the shadow of the Almighty.
Psalm 91:1
I want to pray like a song sparrow sings, before the storm (as trials are sure to come), while seeking shelter with my heavenly Father, and by singing His praises while storms rage. To be honest, I'm not always quick to do that. Sometimes I fret and struggle before I release my need to God. That's why I need my faithful friends who remind me that our loving God promises to care and provide for us.
Please share in the comments below how you prepare for the storms of life. Do you find comfort in requesting prayer for your needs?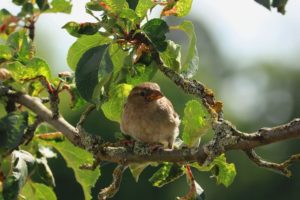 1 All Scripture quoted is from the ESV, English Standard Version.
2 "What Do Small Birds Do in a Storm?" All About Birds, Cornell University, accessed August 16, 2018. https://www.allaboutbirds.org/what-do-small-birds-do-in-a-storm/
Please feel free to share this post!