"Sweet dreams. See you in the morning," my mother said to my daughter and me.
"Good night, Mema," my daughter replied.
"Good night, my darling," was the answer.
"Sleep well. I love you two," I added.
My mom then called from her bedroom to ours, "Do you want French toast in the morning?"
"Of course," I replied, "Yours is the best."
And it was. Her powdered sugar-coated French toast was a treat served with crispy bacon, fruit, and coffee.
Sometimes when my daughter was home from college, we'd hug my husband good-bye and travel one county north to spend the night with my mom. Her country home was set between two huge oaks on a 19-acre plot with a pond, a pasture, and lots of hardwoods.
Realizing that my daughter would sleep late while she could, and my mom, by her own admission, was not a "morning person," I tiptoed into the kitchen when a neighbor's rooster crowed. Coffee mug in hand, I headed to the glassed-in porch which faced the pond. Sitting on the cushioned glider under a blanket, I had a front row seat to watch a new day begin.
Rich sky colors danced in reflection on the pond as a multitude of songbirds welcomed the dawn. Raindrops decorated a spider's web just outside the window, and dew sparkled from the grassy lawn. Only the sights and sounds of nature…and me…and God.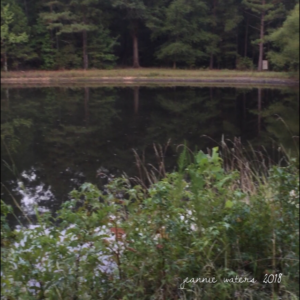 What a perfect time for a conversation with my Heavenly Father! After praising Him and giving thanks for my blessings, I prayed for my family, friends, and those with needs. Then, I read my Bible to learn what God wanted to teach me before the day got underway.
We can certainly pray at any hour, but there's something special about that morning time that sets the tone for my day. Later, I can seek wisdom from the Lord and share my requests, but when the day is fresh, it's peaceful and quiet and new.
We know that Jesus sometimes prayed in the morning (Mark 1:35) and the psalmists wrote about communicating with God at that crisp, new time of day. Here are some verses I enjoy reading and praying.

Morning Prayer Verses
The steadfast love of the Lord never ceases; his mercies never come to an end;
they are new every morning; great is your faithfulness.
–Lamentations 3:22-23 ESV
I rise before dawn and cry for help;
I hope in your words.
–Psalm 119:147 ESV
Let me hear in the morning of your steadfast love,
for in you I trust.
Make me know the way I should go,
for to you I lift up my soul.
–Psalm 143:8 ESV
Now by nature, I'm a night owl, and although early morning is the best prayer time for me, I'm not always up bright and early. Please share below your favorite time to pray.
Please feel free to share this post!