Part 2 in a 3-part series
Breakfast table surprises greeted my brothers and me each Valentine's Day of our childhood. My mom either served heart-shaped pancakes with bacon and strawberry syrup or pink grits with sausage and heart-shaped toast.
Pink grits, you ask? Yes, what fun! She also sprinkled valentines and candy on the table with Pinterest-worthy flair.
My mother adored showing love to her family and celebrating special days. For the entire week of February fourteenth, she selected dresses or slacks outfits with pink or red touches and then added a piece of heart-shaped jewelry.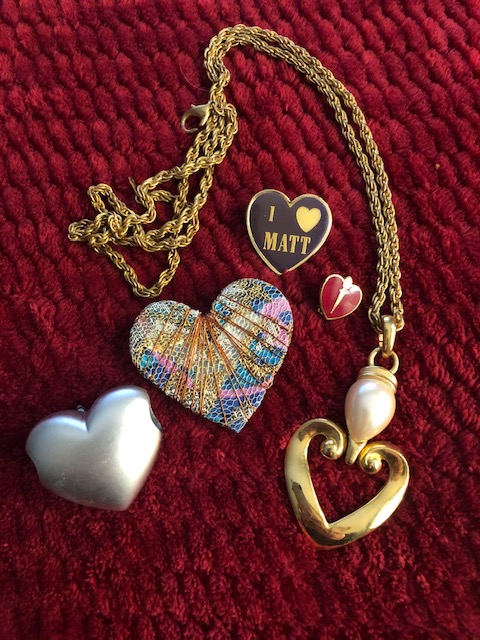 Each morning Mama chose her jewelry according to the day's events. For Sunday school and church services at our small wood-frame church, she wore matching earrings and a beaded necklace to accessorize her dress and hat.
She wore pearls for weddings, funerals, and church directory photo shoots. For workdays at home, her wedding bands served as her only adornment. However, trips to the library, the Colonial grocery store, or a Merry Weeders garden club meeting required the addition of earrings.
Mama's jewelry boxes held treasured pieces suitable for every occasion. Some of the bracelets and necklace-earring sets were gifts, selected especially for her by people who loved her.
Each day we can find word gifts in the Bible selected especially for us by our heavenly Father who knows our needs. As we embrace the jewels He provides, He enables us—with His truth engraved in our heart—to face any occasion that may arise.
Every word you give me is a miracle word—how could I help but obey? Break open your words, let the light shine out, let ordinary people see the meaning.

Psalm 119:129-130 The Message
When we ask God to teach us while we study His Word, we collect cherished gems from Scripture. Like a jewelry box that holds bracelets and rings, our hearts hold dear truths that fit every circumstance of our lives.
I wrote in the last post, "As we store God's words in our hearts, He transforms them into sparkling jewels that change our lives." Thoughts from a Jewelry Box and Psalm 119
Our heavenly Father sprinkles heart verses like valentines and sweet treats throughout the Bible to remind us who He is and how much He loves us. As a loving Father, He also includes words of correction and instruction. His truths create a well-balanced, festive spread to decorate the table of our hearts with His gifts.  
Which treasured piece of Scripture do you need to add to your ensemble today? Do you need peace, instruction, or forgiveness? Do you lack faith, strength, assurance of His presence? Are you seeking wisdom, comfort, or boldness to witness? The Bible includes the right word for you today.
When a verse of Scripture addresses a particular challenge in our life, we could write it on a card and imagine wearing it as a valued accessory for a day of walking with Jesus. Perhaps we could write an encouraging verse on a valentine before mailing it to a friend.
Let's proclaim with the psalmist:
I will meditate on your precepts and fix my eyes on your ways. I will delight in your statutes; I will not forget your word.

Psalm 119:15-16 ESV
Please encourage us by sharing how a particular Bible verse or passage of Scripture makes a difference in your life. 
In the next post—the third in this three-part series—we'll share ideas for memorizing Scripture.
Please feel free to share this post!